Genealogy, Siblings, Wight Family Tree
Warner Adelbert 'Del' Wight (10th generation)
(John 9, Luther 8, Thomas 7, Joseph 6, Joseph 5, Joseph 4, Henry 3, Thomas 2, Robert 1)
Warner Adelbert Wight, 'Del', was born on September 12, 1851 in Andover, Ohio, to John Norton and Susan A. (nee West) Wight. He was one of four children, three boys and a girl. His younger brother, Francis Asa Wight, would become a pastor, author and evangalist and his sister, Iola, would never marry, but dedicated her life serving as a missionary to the Hawaiian Islands.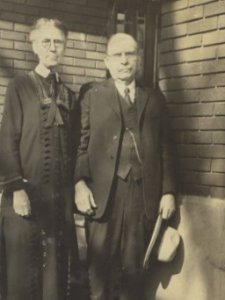 On September 14, 1875, Del married Virena Dilla Morrison in Sturgis, Michigan. They moved to Kansas, where Del tried his hand at farming broom corn in Pawnee County. When that venture proved unsuccessful, Del began touring Kansas selling sewing machines. He also, for a time, was in the bakery business and a manager of a lumber mill. From there, he became a building contractor and the owner of four homes. Alas, a bad investment in a struggling Christian school, Garfield University (which later failed), forced him into bankruptcy in 1890 and he and his family moved to Salt Lake City, Utah.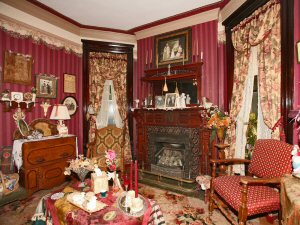 In the autumn of 2009, I was contact by Rich Hamel of Wichita, Kansas. He and his wife own one of the four homes built for Del and family. Built in 1886, it is located approximately 2 blocks from the Garfield (now Friends) University. The Hamels' goal is to have the home listed in the National Registry. He was kind enough to include a current photo of the home.
Returning to Del's history, Virena and Del had four sons together - Warner (died at age 21), Arthur (died at age 18 months), Frank and Earl. In Salt Lake City, the family lived just down the block from Brigham Young. Brigham was often away from home and upon his return, his multitude of children would form a line to greet him. It is Wight family lore that on one such occasion, as Brigham was proceeding down the line, tousling hair and handing out dimes, Frank jumped in line, was tousled as one of Brigham's own and made 10 cents in the process.
Del re-entered the work force as a clerk for Scott Hardware Company, working his way up to the corporation's Secretary-Treasurer, where he remained until his death on February 19, 1933.
His grandchildren remembered him fondly, as a jolly and huggable grandpa who would gather the 5 of them in his lap to read the funnies from the newspaper after church and always have peppermint candy for each of them in his pockets. Though a deeply religious man, he was not one to take himself too seriously, and taught more by example then by words.
---
Genealogy
The Wight family tree begins with Thomas Wight and continues down to my maternal grandmother, Dorothy Ann Wight. Asterisks mark the generations in my direct family line. I am a 13th-generation member of the Wight family, whose line dates back to the mid-1600's. Some family members names are are underlined. These are links to their biographical information (including siblings), and when available, photos.
Warner Adelbert Wight (9th generation) *

Born: September 12, 1851 in Andover, Ohio
Married: September 14, 1875 in Sturgis, Michigan

Spouse: Virena Dilla Morrison

Born: November 14, 1855 in Sturgis, Michigan
Died: February 4, 1939 in San Gabriel, California

Child: Warner Morrison (Born: August 28, 1876, location unknown)
Child: Arthur Riley (Born: December 16, 1878, location unknown)
Child: John Frank * (Born: September 1, 1881 in Wichita, Kansas)
Child: Earl Tuttle (Born: May 15, 1889, location unknown)

Died: February 19, 1933 in Salt Lake City, Utah
---
Siblings
William Norton Wight

Born: January 14, 1848 in Andover, Ohio
Married: November 30, 1869, to Lucy Cordelia Tyler in Kingsville, Ohio
Children: William V., Bayard V., Frank Ernest
Died: February 21, 1889 in Andover, Ohio

Frank Asa Wight

Born: February 16, 1854, location unknown
Died: 1943, location unknown

Iola Wight

Born: February 7, 1856, location unknown
Died: date, location unknown - still living in 1890 ("The Wights" by William Ward Wight © 1890)
---