Genealogy, Siblings, Wight Family Tree
Deacon Joseph Wight (5th generation)
(Joseph 4, Henry 3, Thomas 2, Robert 1)
From William Ward Wight's "The Wights - A Record of Thomas Wight of Dedham and Medfield and of his Descendants 1635-1890" (© 1890)...
"...born December 10, 1681, resided in Dedham. He married there April 6, 1709, Sarah, born Avery, widow of Thomas Metcalf, of Dedham. Close upon the death of his father, Joseph was chosen deacon of the church and continued in this office 29 years, until his own death. Thus these two Josephs were deacons of the first church in Dedham almost a round sixty years. The records of South Parish Church, Dedham, contain a resolution passed February 18, 1742-3, 'That the thanks of this Chh be given to Deacon Weight for the Lot of Land He had given the Church.' (Hill's Dedham Records, II, 140.) For fourteen years, first in 1741, Deacon Joseph was selectman of Dedham. (Mann's Annals, 80.) His wife died in Dedham, June 28, 1748 (Hill's Dedham Records, I, 78.). Deacon Joseph married April 24,1750, Mary, born Smith, widow of Henry Plimpton, of Medfield, and of Lieut. Jabez Pond, of Dedham. She was received into the Dedham church from Medfield April 18, 1742. She died June 21, 1774 (Chase's Plimpton Family, 75). Deacon Joseph died in Dedham July 14, 1756."
"Note 1. Sarah Avery was born October 9, 1675, in Dedham; her parents were William Avery and Mary, daughter of Job Lane of Malden. William was son of William and Margaret Avery of Dedham. The elder William was physician or apothecary in Dedham, and in 1669 was representative for Springfield, non-resident representation being then permissible. He died in Boston aged 65, March 18, 1687; his wife Margaret died September 28, 1678. (Savage's Gen. Dict. I, 83). Sarah Avery married Thomas Metcalf, November 24, 1696. Thomas died September 22, 1704. (Hill's Dedham Records, I, 27, 28)."
Sarah Wight's gravestone can be found in the cemetery behind St Paul's Episcopal Church, 59 Court Street, Dedham, Massachusetts. It reads: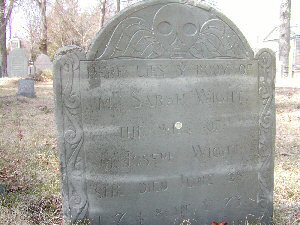 HERE LIES Ye BODY OF
Mrs. SARAH WIGHT
THE WIFE OF
Mr. JOSEPH WIGHT
SHE DIED JUNE 28th
1748: IN Ye 73d.
"Note 2. Mary Smith: Henry Smith came from England in 1637, with his wife Elizabeth and two sons. His fourth son Samuel,born in Dedham, October 13, 1641, married, in 1677, Sarah (Clark) Bowers - both Samuel and Sarah having been relicts of consorts killed by the Indians in 1676. Their child Mary was born in Medfield, November 22, 1688. The woof of her life is curiously interwoven with the warp of the Wights. Her brother, Henry Smith, married, in 1708, Mary Adams (20 4th generation), daughter of Mary Ellis (3rd generation), daughter of Mary Wight (5 2nd generation); and in 1730, Ruth Barber (21 4th generation), daughter of Abielle Ellis (3rd generation), daughter of Mary Wight (5 2nd generation). Mary Smith's brother, Nathaniel, married in, 1705, Mary Clark (4th generation), daughter of Mary Wight (16 3rd generation); and in 1717 Lydia Partridge (37 4th generation), daughter of Lydia Wight (3rd generation). Mary Smith herself, in 1706, married Henry Plimpton (86, Note), and became the mother of Sarah Plimpton, who married Jonathan Wight (85 4th generation), of Mary Plimpton who married John Wight (86 4th generation), and of Henry Plimpton who married Anne Pond, sister of Mary Pond, wife of Rev. John Wight (53 4th generation). Henry's son, David Plimpton, married Sarah Wight (186 5th generation). Mary Smith's husband Henry Plimpton, having died in 1731, the widow on November 22, 1732 (the day that her daughter Sarah married Jonathan With (85 4th generation) as above stated) married Lieut. Jabez Pond, whose daughter Mary, of a former marriage, was the wife of Rev. John Wight (53 4th generation), and whose daughter Anne,of a former marriage, was the wife of Henry Plimpton, Mary Smith's son. As if these indirect relations with the Wights stimulated her to a nearer alliance, Mary Smith, who by the death of Lieut. Jabez, November 6, 1749, became Widow Pond, was wedded in her declining years to the declining years of Deacon Joseph Wight (46 4th generation)."
"Note 3. A note made by Rev. Jason Haven to his commemoration sermon in 1796, on the celebration of the 40th anniversary of his pastorate (Dedham Pulpit, 485), mentioned the dwelling of 'Joseph Wight and his son' as having been one of seven consumed by fire during his pastorate. As his pastorate began February 5, 1756, and Joseph Wight died July 14, 1756, the fire probably occurred between these dates. I know nothing further about it. The wording 'and his son' would seem to imply that the Henry (113 5th generation), concerning whom I have printed 'nothing known', was not then living. He doubtless died young."
---
Genealogy
The Wight family tree begins with Thomas Wight and continues down to my maternal grandmother, Dorothy Ann Wight. Asterisks mark the generations in my direct family line. I am a 13th-generation member of the Wight family, whose line dates back to the mid-1600's. Some family members names are are underlined. These are links to their biographical information (including siblings), and when available, photos.
Joseph Wight (5th generation) *

Born: December 10, 1681 in Dedham, Massachusetts
Married: April 6, 1709 in Dedham, Massachusetts

Spouse: Sarah (nee Avery) Metcalf

Born: October 9, 1675 in Dedham, Massachusetts
Died: June 28, 1748 in Dedham, Massachusetts

Child: Joseph * (Born: January 7, 1710 in Dedham, Massachusetts)
Child: Henry (Born: April 6, 1713 in Dedham, Massachusetts)

Married: April 24, 1750, location unknown

Spouse: Mary (nee Smith) Plimpton

Born: November 22, 1688 in Medfield, Massachusetts
Died: June 21, 1774 in Dedham, Massachusetts

Died: July 14, 1756 in Dedham, Massachusetts
---
Siblings
Deborah Wight

Born: August 25, 1684 in Dedham, Massachusetts
Married: July 26, 1716, to Nathaniel Chickering in Dedham, Massachusetts
Children: Joseph, Daniel, Deborah, Lydia
Died: January 16, 1749 in Dedham, Massachusetts

Nathaniel Wight

Born: September 13, 1688 in Dedham, Massachusetts
Married: June 29, 1720 to Ruth Hawes in Wrentham, Massachusetts
Children: Benoni
Married: January 9, 1722-3 to Hannah Pond in Wrentham, Massachusetts
Children: Mary, Ruth, James, Sarah, Deborah
Died: April 3, 1755 in Wrentham, Massachusetts

Ebenezer Wight

Born: January 22, 1696 in Dedham, Massachusetts
Married: September 3, 1740 to Subiah Hall
Children: Ebenezer (Jul. 8, 1741 - Dec. 17, 1742), Subiah, Mary, Ebenezer (Nov. 4, 1746 - Dec. 3, 1746), Joseph, Ebenezer, Deborah, Samuel, Nathaniel
Died: December 20, 1776 in Dedham, Massachusetts

Jabez Wight

Born: July 12, 1701 in Dedham, Massachusetts
Married: March 15, 1768 to Ruth Swan
Children: Joseph, Jabez, John, Ebenezer, Mary, Benjamin, Nathaniel
Died: September 11/15, 1782 in Norwich, Massachusetts
---