Genealogy, Siblings, Kendall Family Tree
Calvin Wells Kendall (6th generation)
(Courtney 5, Fredrick, 4, Alonzo Burnham (A.B.) 3, Young Ichabod 2, Alphens 1)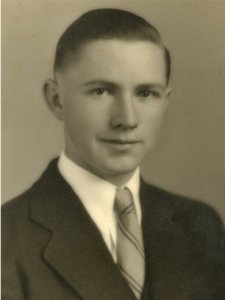 Calvin Wells was the second and last child born to Courtney 'Clare' and Maida (Gardner) Kendall. He was born in Hanford, California, in the San Joaquin valley, on April 18, 1920. He joined an older brother, Gardner Warren (1918-1994), to make their family complete. Cal grew up on the 'Island', starting his first two years of school there. The family moved north to the Sebastopol area in 1938. Cal continued school on the 'West Side'. When he graduated from eighth grade, there were only two children in the school, him and a girl in the fourth grade. Forevermore, Cal attended his 8th grade reunion, faithfully, wherever he was. Cal graduated from Analy High School in Sebastopol, California, in 1937.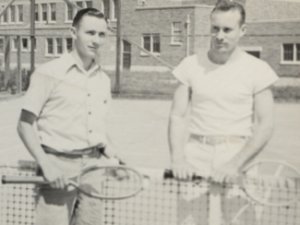 Cal and his brother, Gardner, at Analy High School - Sebastopol, California (date unknown)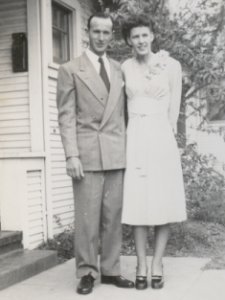 Cal met a pretty, lil' thing at a dance and married her on November 28, 1947. Dorothy Ann (Wight) Gallagher had been previously married and divorced and brought Cal a ready-made family. He legally adopted her son, Jeffrey, and the two were nothing other than father and son. Dorothy and Cal would later have a daughter, Shirley Dee, who was born in November, 1948.
The young couple had a Grade B dairy when they were first married. Cal ran the dairy and Dorth, a bonafide city girl, learned to be a farmer's wife. They sold the dairy and moved to a piece of relatively undeveloped land. Times became tough and Cal began work as a well-driller. Long days were in store with milking the cow starting and ending the day. Cal and the family moved to town in December of 1952 (Sebastopol, California) and he later began working for the County of Sonoma's Water District as a pumping plant foreman on the Russian River. He retired in June of 1978 after 19 years.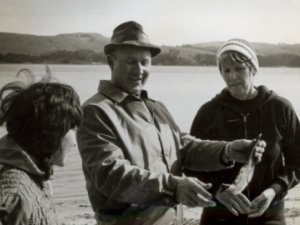 Cal and Dorth spent a lot of time on the farm tending their garden and various farm animals, but also allowed for many day trips to the park or to the beach. Fishing and trips to the Sonoma and Mendocino County coasts of the Pacific Ocean became a family tradition. Ria, Cal and Dorth study a jawbone at Tomales Bay, California - 1974.
It also allowed him more time to 'tinker'. Cal was a wonder with machinery and could darn near repair anything. He restored many a vehicle and tractor.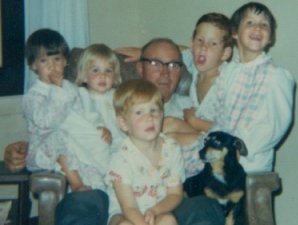 Retirement gave Cal more time to spend with his grandchildren. Jeff had three kids: Gary, David, and Heather; Dee had two: Tricia (me) and Toni. Jeff's clan was a typical Air Force family, moving all over the States. Visits were as frequent as possible. Dee remained local and Sunday gatherings for dinner were the norm.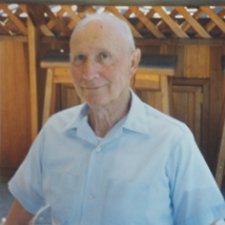 Grandpa Cal left us on February 28, 1999, in Sebastopol, California, after suffering a series of strokes. He and Dorothy (who passed on in February, 1995) chose to be cremated and have their ashes scattered over the ocean they loved.
---
Genealogy
The Kendall family tree begins with Alphens (Alpheus?) Kendall and continues down to my maternal grandfather, Calvin Wells Kendall. Asterisks mark the generations in my direct family line. I am a 8th-generation member of the Kendall family, whose line dates back to the mid-1800's. Some family members names are are underlined. These are links to their biographical information (including siblings), and when available, photos.
Calvin Wells Kendall (6th generation) *

Born: April 18, 1920 in Hanford, California
Married: November 28, 1947 in Santa Rosa, California

Spouse: Dorothy Ann Wight

Born: September 29, 1917 in Richfield, Utah
Died: February 11, 1995 in Sebastopol, California

Child: Jeffrey Dwight was adopted by Calvin, his surname changed to Kendall
Child: Shirley Dee *

Died: February 27, 1999 in Sebastopol, California
---
Siblings
Gardner Warren

Born: May 16, 1918 in 'The Island' (Hanford), California
Married: August 20, 1940, to Virgina R. Bennet in Reno, Nevada
Children: Karen, Kandi
Died: date unknown, Illinois
---