Genealogy, Siblings, Kendall Family Tree
Frederick Wilson Kendall (4th generation)
(Alonzo Burnham (A.B.) 3, Young Ichabod 2, Alphens 1)
Frederick Wilson Kendall was born to Alonzo Burnham (A.B.) and Martha Helen (Blake) Kendall in Alexander Valley (Boonville), Mendocino County, California, on May 9, 1865. He was the middle child of five. His older siblings were Diana M. (1861/2-1884) and Lon B. (1863-1929) and the youngsters were Courtney Leon (1865-1934) and Edith Mabel (1878-1971). Fred's mother passed in 1884 and his father remarried in 1888. This union between A.B. and Mary James (Sears) Kendall gave Fred three step-siblings; Lowell Elwood (1889-1972), Edna (1892-1985) and Thelma (1895-1991).
The family moved to Manchester, California, around 1860 and Fred was schooled there. There he met and later married Bertha Adeline Walker on May 19, 1886. They would have nine children together; Alfred Alonzo (1887-1953), Roy Raymond (1888-1968), Ethel (1890-1987), Courtney Clare (1892-1967), Doris (1894-1964), Lee Russell (1897-1968), Merle (1898-1991) and LaVerna (1907-still living as of 1992). Fred and Bertha lost one male child as an infant born in 1900.
Bertha and Fred moved from Manchester in 1908 to the San Joaquin Valley, in California. All but Alfred, who was already married and a father himself, made the move by boat to San Francisco and then by train to Laton. Fred and the boys farmed and dairied, with the exception of Russell who would go on to make his name in rodeo. Prior to the move, Fred, Roy, Clare and Russell herded their cattle to Cazadero where they were put on a narrow gauge railroad to Tiburon, crossed the San Francisco Bay by ferry, and completed their journey by train to Laton. Once settled, Fred sent for the rest of the family.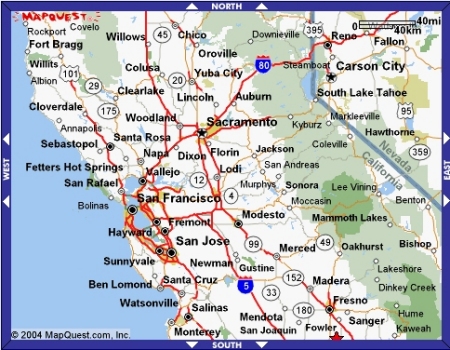 Pictured is a depiction of the area covered during the family's journey. It begins in the northwest corner near Albion, to San Francisco by sea, to the valley by train (indicated by the red star). The cattle's route varied slightly as they went by land to Cazadero (northeast of Sebastopol), by train to Tiburon (just south of San Rafael), by ferry across San Francisco Bay and finally to Laton by train.
When ill health forced Fred to retire and sell off his land, he first settled in Monterey, California, with his son, Russell, and later moved to Santa Rosa, California. Fred died on May 18, 1934 in Santa Rosa. Bertha died in Costa Mesa, California, at LaVerna's home on December 14, 1952. Both are buried in the Pleasant Hill Cemetary in Sebastopol, California.
---
Genealogy
The Kendall family tree begins with Alphens (Alpheus?) Kendall and continues down to my maternal grandfather, Calvin Wells Kendall. Asterisks mark the generations in my direct family line. I am a 8th-generation member of the Kendall family, whose line dates back to the mid-1800's. Some family members names are are underlined. These are links to their biographical information (including siblings), and when available, photos.
Frederick Wilson Kendall (4th generation) *

Born: May 9, 1865 in Alexander Valley, Mendocino County, California
Married: May 19, 1886 in Manchester, California

Spouse: Bertha Adeline Walker

Born: July 20, 1868 in Redwood City, California
Died: December 14, 1952 in Costa Mesa, California

Child: Alfred Alonzo (Born: March 8, 1887 in Manchester, California)
Child: Roy Raymond (Born: October 30, 1888 in Manchester, California)
Child: Ethel (Born: June 8, 1890 in Manchester, California)
Child: Courtney Clare * (Born: June 23, 1892 in Pt. Arena, California )
Child: Doris (Born: June 16, 1894 in Manchester, California)
Child: Lee Russell (Born: June 22, 1897 in Gualala, California)
Child: Merle (Born: November 4, 1898 in Manchester, California)
Child: unnamed male child (Born: 1900, died in infancy)
Child: LaVerna (Born: January 25, 1907 in Manchester, California)

Died: May 18, 1934 in Santa Rosa, California
---
Siblings
Diana M. Kendall

Born: March 14, 1861 in Boonville, California
Married: November 1, 1882, to Ethelbert Saunders, location unknown
Children: Etta
Died: March, 1884, location unknown

Lon Burnham Kendall

Born: February 15, 1863 in Boonville, California
Married: about 1888, to Helen Rice McLaughlin, location unknown
Children: Walter Lon, Diana, Phillip Rice
Died: October 25, 1929 in Auberry, California

Courtney Leon Kendall

Born: September 21, 1870 in Manchester, California
Married: March 16, 1905, to Ada Washburn Cain in Manchester, California
Children: Alonzo Frederick
Died: August 23, 1953 in Santa Rosa, California

Edith Mabel Kendall

Born: October 1, 1880 in Manchester, California
Married: August 1, 1905, to James Lochridge Dinwiddie in San Francisco, California
Children: James Kendall, Keith Burnham
Died: March 10, 1970 in Mountain View, California

Lon Elwood Kendall

Born: March 28, 1889 in Manchester, California
Married: January 4, 1919, to Mabel Bishop Inman in Manchester, California
Children: John Dennis Inman, Wilbur
Died: February 11, 1972 in Napa, California

Edna Kendall

Born: September 17, 1892 in Manchester, California
Married: December 25, 1918, to Glen Oren Smith in Salt Lake City, Utah
Children: Elden Burton, Derrell, Merlin Claire, Milton Elwood, Duane Lamar
Died: March 28, 1985 in Walla Walla, Washington

Thelma K. Kendall

Born: March 11, 1895 in Manchester, California
Married: December 24, 1917, to Clyde Clinton Brewer, location unknown
Children: Annabel
Died: August 20, 1991 in Ukiah, California
---