Thank you for your patience as pictures are loading. Last updated May 19, 2010.
The game and local courses
It is rare for us to be too busy, or the weather too bad, to take in our ritual pair of weekend rounds of disc golf. Disc golf is played on the same premise of regular golf, only instead of using clubs to hit a ball into a hole, it is played with "frisbee" discs thrown towards a basket. I've certainly improved over the years, going from scoring "girly-par" (one extra shot per hole), to scoring the Pro par of three strokes per hole (par-three). I'm nowhere near going pro though! I average about 15-over-par, which I aim to improve. My local claim to fame is being one of the few women to ace a hole (aka hole-in-one or eagle) at Low Gap park, one of our local disc golf courses. The game's a lot of fun, challenging and you meet some great people. And it's good exercise with lots of walking and hiking over varied terrain. The hiking comes into play with those shots that go awry!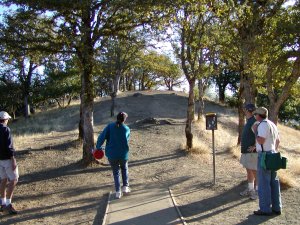 We meet regularly meet with Tim (far left in photo) and Benj (right of tee sign), and formerly, Rich (to Benj's right). I'm on the tee pad of hole 8 throwing my initial drive. Over the years, our group has grown to include Trey and Dickie as weekend regulars.
A par-three combination would typically include the drive, an up-shot and the putt into the basket, using different frisbees or discs for each shot. Discs are molded for variance to change the flying characteristics to aid in flight length and degree of turn to the right or left. However, not all holes are considered par-threes at our "home" course of Low Gap Park under the course's standard rating.
The standard par rating for the course is 60 (holes 3, 6, 10 and 14 are par 4's, hole 13 is a par 5, and the remaining holes are par 3's). The Pro par rating is 54, or par-three on all holes. We score based on the Pro par rating. "Girly-par" was scored as par-four on every hole.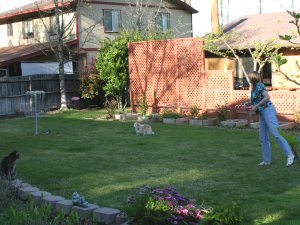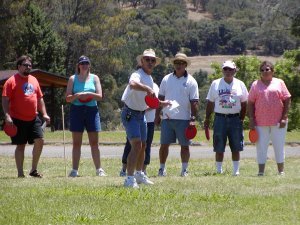 Bob and I continually strive to improve our games. We purchased 10 putters and a portable disc golf basket to try and improve our putting skills. It gets regular use in the backyard. We've also taken it to group picnics for impromtu frisbee games.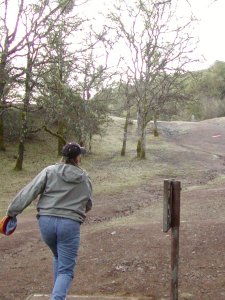 We are lucky to live in an area in which there are many courses to play - Low Gap Park, Mendocino Community College, and Lake Mendocino in Ukiah; Highland Springs Reservoir in Lakeport; the KOA campground in Willits - just to name a few. For a list courses near you, go to PDGA's (Professionsal Disc Golf Association) course directory. For detailed layouts of the Low Gap Park and Lake Mendocino courses, visit my hubby's disc golf page.
---
Updates
June 15, 2008 - My game has much improved over the past few weeks. We continue to regularly play the Low Gap course. In recent games, I've shot a couple of 7-over-par's, an 8-over, a 10-over, a 6-over and today, I had my lowest score ever - a three-over-par. Practice hasn't made me perfect, but it sure has made a difference in my average score!
July 13, 2008 - Shot another three-over-par game this morning. Bogey-ed holes 3, 4, 5 and 6; birdied hole 8 and shot even par on all other holes on the Low Gap course. Maybe this string of good rounds isn't a fluke after all!
November 22, 2008 - It took me a while, but get another three-over-par game. Bogey-ed holes 2, 3, and 5; shooting even par on all other holes on the Low Gap course. That's holes 6 through 18 with consecutive pars!
November 25, 2008 - When it rains, it pours (figuratively)! Shot another three-over-par game this afternoon. Bogey-ed holes 2, 3, and 5 again, along with 10 and 15. However, I birdied holes 12 and 17, bringing my score back down to three over. A birdie shot on 18 would have brought me down to two over and I hit the outer rim of the basket on the shot, but unfortuately "close" doesn't translate into a lower score, so at three over I stayed. After all, this is disc golf, not horseshoes or hand grenades!
November 30, 2008 - Just completed my longest string of daily rounds - 10 days straight, with a couple of days of two rounds thrown for a total of 12 rounds in 10 days. My arm is toast and my calluses have calluses! Shot two rounds that tied my best score (see November 22 and 25's updates) and my worst was a 16 (lots of rolls). Most rounds were in the 8-12 over par scoring range.
July 4, 2009 - Shot a four-over-par game this morning with a birdie on hole 10 (Low Gap course)!
July 31, 2009 - Shot another four-over-par game at Low Gap. Double-bogied 2, bogied 4, 5 and 14 and birdied 12.
August 16, 2009 - A new personal best! ONE OVER PAR!!! Shot bogeys on holes 4 and 13, birdied hole 12 and shot par on the rest of the course at Low Gap Park.
August 22, 2009 - Shot bogeys on holes 2, 5, 6, 10 and 17, but birdied holes 8 and 12, for a three-over-par round this morning.
April 17, 2010 - Another long overdue 3-over par today. Bogey-ed holes 2, 3, 5, 6, and 7 (certainly wasn't off to a great start!), then birdied-out on holes 17 and 18.
May 19, 2010 - 3-over par game this morning with a lot of opportunities to better the score still. If only! Double-bogey-ed 3, bogey-ed 7 and 10 and birdied hole 12.
---
2009 Ice Bowl Disc Golf Tournament

On February 7th, I participated in the annual Ice Bowl Disc Golf Tournament held at my home course, Low Gap Park. We had a strong turn-out...81 players!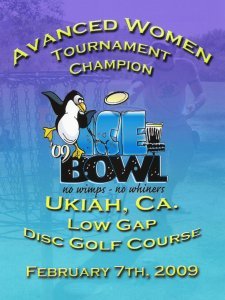 Unlike the tournament in 2006 (where I played the two worst rounds of my life), I didn't let nerves get to me. First off, I was grouped (coincidentally?) with Trey, Tim and Bob - most of our regular weekend crew. So, other than having to wait on the tees for the group ahead of us to finish, it was just another round with the guys. I managed to keep my score within one point of my average.
Each player was placed into a division based on age and average score. I, being the only woman participant, was in a division all my own. Needless to say, I took the Advanced Women's division championship for the tournament. (Please excuse the typo on my plaque, it was a low-budget tourney!)
---
2010 Ice Bowl Disc Golf Tournament
Another February, another Ice Bowl! The motto-ed, "No Wimps, No Whiners", Ice Bowl disc golf tournaments are held all over the nation to raise monies and donations for local food banks.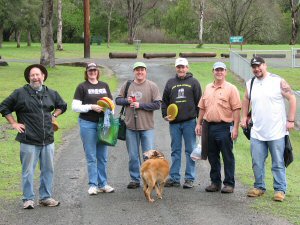 This was our 2nd tourney and the whole gang - Benj, myself, Trey, Tim and Bob (not pictured) - signed up to participate and were joined by our two newbies, Brent and Ryan.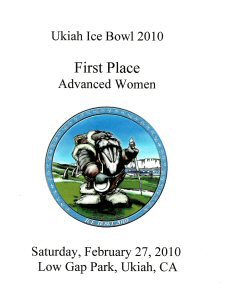 Unlike last year, I actually had a competitor in the Advanced Women's class. I won the category and am now the two-time Advanced Women's Ice Bowl champion. I scored a 14-over par in the tournament, but had scored a 6-over in the earlier morning round we had played. I guess I choked under pressure! Either way, it was enough to defend my title.