Genealogy - Morrison's, Genealogy - Wight's, Wight Family Tree
Virena Della (Morrison) Wight
(Wife of Warner Adelbert Wight (11th generation))
(John 9, Luther 8, Thomas 7, Joseph 6, Joseph 5, Joseph 4, Henry 3, Thomas 2, Robert 1)
Virena's father, John Morrison, was one of the many men who made his way to California during the Gold Rush to seek his fortune. During this time, after becoming moderately successful, he proposed to Lydia Urzela Drake back home and was accepted. He had some of he gold forged into a ring which he mailed, for safety's sake, wrapped in newspaper to his intended. He followed the ring home, but by a different route. He sailed to Panama (before the existance of the Panama Canal), in which passengers would disembark and then ride mules along the Isthmus, carrying their own luggage, to board a second ship bound for New York Harbor. It was not a smooth journey and most ended up walking the distance, John lugging his baggage and his gold bars through the heat and humidity.
Virena Della was born to Lydia and John on November 14, 1855, in Sturgis, Michigan. Her only sibling was a brother, De Alton, who died of tuberculoisis at age 36. Their family was considered well-to-do and saw that Virena received an extensive musical education.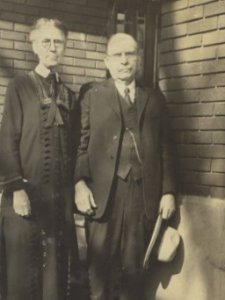 Virena married Warner Adelbert 'Del' Wight in Sturgis on September 14, 1875. They would have four sons together - Warner (died age 21), Arthur (died age 18 months), Frank and Earl. The youngest, Earl, joined the Army and served during World War I and beyond. He contracted influenza during the epidemic, leaving him with a weakened heart. Earl never married and died in California while playing golf in 1927.
Frank completed 8 years of elementary school and two of high school before entering the work force. While working at Richfield (Utah) Power and Light Company, he met his bride-to-be, Lillie Docina Nielsen. Lillie was a first-generation American daughter of Danish immigrants. Virena, as told through family stories, wanted someone more sophisticated for her son. She took it upon herself to ensure their wedding would be the finest there was, making Lillie's wedding dress in the latest style and ordering the wedding invitations, changing Lillie's name to Lillian Drucilla Nelson from Lillie Docina Neilsen to downplay her real name feeling it was too immigrant and countrified.
Being a talented seamstress, singer, pianist and artist, Virena did her best to pass along her talents to her grandchildren. She designed and made their Easter clothing, including capes and hats. She began teaching Dorothy and Marjorie to play piano and to paint. There was also a family project to cut out quilt blocks, embroider their names and construct the quilt. The grandchildren had fond memories of that quilt, recalling the dresses from the same materials as the blocks.
After Del's death, Virena moved in with Frank, Lillie and their five children in California. It was unfortunately not a smooth transition as Virena's strict upbringing bled over into the younger Wight household. Playing cards was, in her eyes, a half-step away from the sins of gambling and skipping rope was considered frivolous and potentially dangerous to 'baby-making equipment'. Though their differences, Virena remained in California until her death in San Gabriel, on February 4, 1939.
---
Genealogy - Morrison family
John Morrison

Born: September 22, 1829 in Petersburg, Virginia
Married: September 14, 1875, location unknown

Spouse: Lydia Urzela Drake

Born: December 8, 1832 in Nelson, New York
Died: May 11, 1891 in Chicago, Illinois

Child: Virena D. Morrison * (Born: December 8, 1855 in Sturgis, Michigan)
Child: Dealton (sic) Weaver Morrison (Born: July 25, 1860, location unknown)

Died: June 12, 1891 in Sturgis, Michigan
---
Genealogy - Wight family
The Morrisons belong to the Wight genealogy by Virena's marriage to Warner Adelbert Wight (9th generation).
The Wight family tree begins with Thomas Wight and continues down to my maternal grandmother, Dorothy Ann Wight. Asterisks mark the generations in my direct family line. I am a 13th-generation member of the Wight family, whose line dates back to the mid-1600's. Some family members names are are underlined. These are links to their biographical information (including siblings), and when available, photos.
Virena D. Morrison

Born: December 8, 1855 in Sturgis, Michigan
Married: September 14, 1875 in Sturgis, Michigan

Spouse: Warner Adelbert Wight * (9th generation)

Born: September 12, 1851 in Andover, Ohio
Died: February 19, 1933 in Salt Lake City, Utah

Child: Warner Morrison (Born: August 28, 1876; Died: October 26, 1897)
Child: Arthur Riley (Born: December 16, 1878; Died: July 9, 1880)
Child: John Frank * (Born: September 1, 1881)
Child: Earl Tuttle (Born: May 15, 1889; Died: March 6, 1927)

Died: February 4, 1939 in San Gabriel, California
---