Genealogy, Siblings, Wight Family Tree
John 'Frank' Wight, Sr. (11th generation)
(Warner, 10, John 9, Luther 8, Thomas 7, Joseph 6, Joseph 5, Joseph 4, Henry 3, Thomas 2, Robert 1)
John Frank was born September 1, 1881, one of four sons, to Warner Adelbert and Virena Dilla Wight. All his brothers died young - Warner at age 21, Arthur at only 18 months, and Earl at age 37.
As a young man, Frank completed 8 years of grammer school and 2 years of high school, but did not graduate. He quit school and found work delivering hay, grain, feed and coal around Salt Lake City, Utah. Later, he would install furnaces and gutters on homes.
Age 23, he was taken on as a trainee by L.L. Nunn, one of the founders of the Tulleride Power Company in Utah. Working for Mr. Nunn as a trainee, he earned room, board, and $20 a week. He put in additional hours when he could and went back to school, finally completing his high school education and entrance requirements for college.
Schooling had become very important to Frank. In 1908, at age 27, he won a scholarship to University of Michigan, College of Engineering. There he completed one year before transferring to Cornell University, graduating in 1912 with a degree in Mechanical Engineering. He continued to study, spending one year on graduate work before completing studies to earn a second degree in Electrical Engineering.
Upon graduation from Cornell, Frank went back to work at Telluride Power Company, rising to the rank of Superintendent of the Richfield, Utah, office. Here is where he met his secretary, and future bride, Lillie Nielson.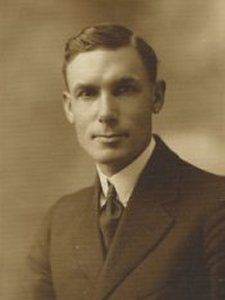 Frank and Lillie were married on June 14, 1916, in Utah. The spent the early years of their marriage living in Richfield, then Salt Lake City. All five of their children would be born in Utah, Dorothy Ann (1917-1995), Marjorie (1919-), Shirley (1921-2004), Eleanor (1922-2005) and John 'Frank', Jr. (1924-2008).
Gone were Frank's days of traveling by horse and buggy. The Wight family's mode of transportation was Frank's Harley Davidson motorcycle, complete with sidecar. The Wight's were living in a duplex, shared with Frank's parents, and on Sundays all four adults and the five children would pile in and on to go to church.
In 1927, Frank traveled to California to claim his brother Earl's body when he passed. In the week prior, he had been laid off and was considering a transfer to Idaho. Upon arriving in the Golden State, he fell in love with it and he and Lillie agreed if he could find work, they would move to Long Beach. He was soon hired by the Southern California Edison Company and the family prepared to move.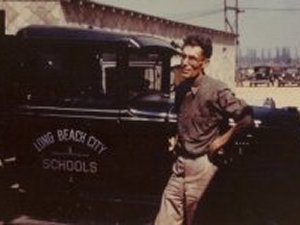 Edison Company wanted to transfer Frank to a station near Fresno in 1929, but Frank turned in down when he discovered the was not a church nearby. He was subsequently laid off and without work with a large brood to feed. Instead he bought a repair and storage garage and went into business for himself. He was successful until March 10, 1933, when an earthquake leveled the garage, and most of Long Beach, California. From there, he went to work for RFC, a government program to help rebuild the city.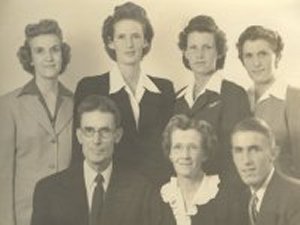 Pictured in 1949 is the Wight family. The girls (l-r) - Eleanor ('Bones'), Marjorie ('Boo'), Dorothy ('Doo') and Shirley ('Tchoo'); Frank, Lillie and Frank, Jr ('Buddy').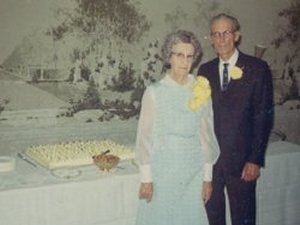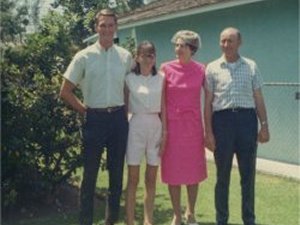 Lillie and Frank Sr. celebrated their golden wedding anniversary in 1966. It was attended by all five of their children and their families, along with a multitude of friends.
Pictured right - The Kendalls (Dorothy's family) - her son Jeff, daughter Dee, Dorothy and her husband Cal.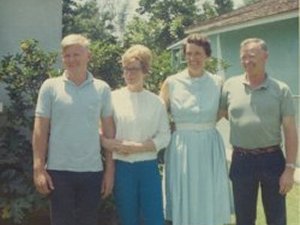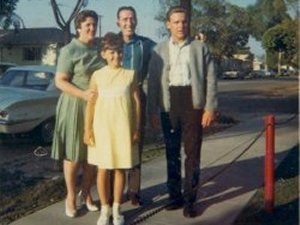 Pictured left - The Murdocks (Marjorie's family) - her son Debe, daughter Connie, Marjorie and her husband Dan.
Pictured right - The Shanahans (Shirley's family) - Shirley, her step-daughter Margo, husband Sam and step-son Lon ('Butch').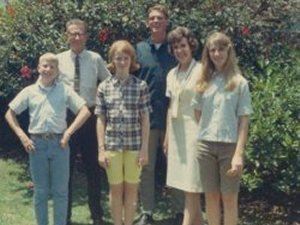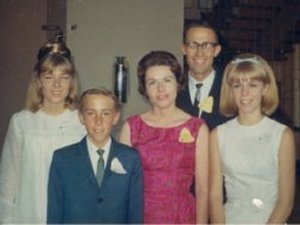 Pictured left - The Henrys (Eleanor's family) - her son Paul, husband Pete, daughter Virginia ('Rusty'), son Mike, Eleanor and daughter Eleanor ('Prunnie').
Pictured right - The Wights (Frank Jr.'s family) - his daugher Kathy, Frank, wife Corinne, his son Frank Jr. and daughter Carolyn .
---
Genealogy
The Wight family tree begins with Thomas Wight and continues down to my maternal grandmother, Dorothy Ann Wight. Asterisks mark the generations in my direct family line. I am a 13th-generation member of the Wight family, whose line dates back to the mid-1600's. Some family members names are are underlined. These are links to their biographical information (including siblings), and when available, photos.
John Frank Wight, Sr. (11th generation) *

Born: September 1, 1881 in Wichita, Sedgwich County, Kansas
Married: June 14, 1916 in Salt Lake City, Utah

Child: Dorothy Ann * (Born: September 29, 1917 in Richfield, Utah)
Child: Marjorie (Born: July 18, 1919 in Richfield, Utah)
Child: Shirley Minerva (Born: January 4, 1921 in Salt Lake City, Utah)
Child: Eleanor Virginia (Born: September 29, 1922 in Salt Lake City, Utah)
Child: John Frank, Jr. (Born: April 17, 1924 in Salt Lake City, Utah)

Died: November 16, 1973 in Camp Verde, Arizona
---
Siblings
Warner Morrison Wight

Born: August 28, 1876, location unknown
Died: October 26, 1897 in Salt Lake City, Utah

Arthur Riley Wight

Born: December 16, 1878, location unknown
Died: July 9, 1880 in Pleasant Valley, Pawnee County, Kansas

Earl Tuttle Wight

Born: May 15, 1889, location unknown
Died: March 6, 1927 in Los Angeles, California
---