Genealogy - Nielsen's, Genealogy - Wight's, Wight Family Tree
Soren Christian Nielsen (1st generation)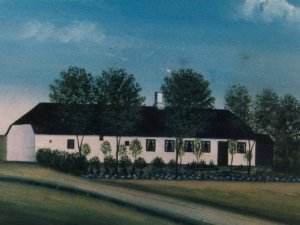 Soren Christian Nielsen was born December 21, 1841, in Skajaerun, Hjorring, Denmark. There is not much information on Soren's life in Denmark, other than he was a tenant farmer. There wasn't any way to better their lives as the classes were divided between peasants and landowners. The peasants, or tenant farmers, would work the land, but paid 'rent' via a portion of their crops to the landlords. Soren and his wife, Anna Kristina 'Christina' (nee Jensen), were married December 28, 1869, in Flade, Hjorring, Denmark, and wanted a better life for their sons in which they could own their own land through hard work given the opportunity.
Through the Mormon church, Soren and his four oldest sons came to America. They worked as farm hands, earning only their keep. The Mormans paid them in script which could be exchanged for the basic necessities at the local store. Soren did not stay, but returned to Denmark. His sons, however, did.
Christina saw opportunities for her children in America and sailed with her three youngest sons (Soren and Christina had 14 children all together), her two sisters and their young children to the States. Upon their arrival at Ellis Island after a 3-week journey, word was sent to Christina's eldest sons. They had to wait for confirmation that they indeed had a final destination in Utah before boarding a train to take them the rest of the way. Soren and the rest of the family would follow later and permanently settle in Richfield, Utah.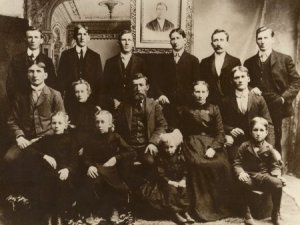 When Soren arrived, the Nielsen family was once again intact - Soren, Christina and their 9 boys. The family would grow by one more son and four daughters before they were done. No more than 8 of the 14 ever lived at home at any given time and the only time they were all together was for the funeral of their son, Hans Walter (pictured). Hans was one of two sets of twins and the fourth child of the fourteen. The number in parentheses after each name indicates their birth order.
Top row (l-r): Joseph Othello 'Joe' (8), Soren Emanuel 'Mann' (9), Adolph Ludwig 'Dolph' (5), Theodore Janus 'Thee' (3 - Hans Walter's twin), Alfred Peter (2), and Magnus Christian (1)
Middle row (seated l-r): Albert Senius 'Brig' (6), Annie Elnora (10), Soren, Anna 'Christina', and Andrew Christian 'Cap' (7)
Bottom row (l-r): Lillie Docina (11 - Minerva's twin), Minerva Elvina (12 - Lillie's twin), Leona Christina (14) and Enoch Elias 'Bink' (13)
Soren worked in a smelter (where ores were melted or fused to separate the metallic constituents) in Murray, Utah, and later was on a section gang for the Denver and Rio Grande Railroad. He was able to purchase a small 10-acre piece of land outside of town. They also acquired a small lot in town and built a homestead. Between the two, they were able to plant a garden, raise livestock and grow wheat.
Times were hard, chores were endless (even with 14 children to help), but they made do. Soren paid his yearly tithe to the Mormon church and repaid for all their passages from Denmark. A true American success story.
Both Soren and Christina passed away in Richfield, Utah; Soren on April 24, 1915, and Christina on December 12, 1916.
---
Genealogy - Nielsen family
Soren Christian Nielsen

Born: December 21, 1841 in Skajaerum, Hjorring, Denmark
Married: December 28, 1869 in Flade, Hjorring, Denmark

Spouse: Anna Kristina (Ane Kristine) Jensen

Born: December 20, 1849 in Flade, Hjorring, Denmark
Died: December 12, 1916 in Richfield, Utah

Child: Magnus Christian
Child: Alfred Peter
Child: Theodore Janus (twin)
Child: Hans Walter (twin)
Child: Adolph Ludwig
Child: Albert Senius
Child: Andrew Christian
Child: Joseph Othello
Child: Soren Emanuel
Child: Annie Elnora
Child: Lillie Docina * (Born: February 13, 1892 - twin - in Richfield, Utah)
Child: Minerva Elvina (Born: February 13, 1892 - twin - in Richfield, Utah)
Child: Enoch Elias
Child: Leona Christina

Died: April 24, 1915 in Richfield, Utah
---
Genealogy - Wight family
The Nielsens belong to the Wight genealogy by Soren's daughter Lillie's marriage to John Frank Wight, Sr. (10th generation).
The Wight family tree begins with Thomas Wight and continues down to my maternal grandmother, Dorothy Ann Wight. Asterisks mark the generations in my direct family line. I am a 13th-generation member of the Wight family, whose line dates back to the mid-1600's. Some family members names are are underlined. These are links to their biographical information (including siblings), and when available, photos.
Lillie Docina Nielsen

Born: February 13, 1892 in Richfield, Utah
Married: June 14, 1916 in Salt Lake City, Utah

Spouse: John Frank Wight, Sr. * (10th generation)

Born: September 1, 1881 in Wichita, Sedgwich County, Kansas
Died: November 16, 1973 in Camp Verde, Arizona

Child: Dorothy Ann * (Born: September 29, 1917 in Richfield, Utah)
Child: Marjorie (Born: July 18, 1919 in Richfield, Utah)
Child: Shirley Minerva (Born: January 4, 1921 in Salt Lake City, Utah)
Child: Eleanor Virginia (Born: September 29, 1922 in Salt Lake City, Utah)
Child: John Frank, Jr. (Born: April 17, 1924 in Salt Lake City, Utah)

Died: April 15, 1981 in Camp Verde, Arizona
---