Genealogy, Siblings, Kendall Family Tree
Alonzo Burnham (A.B.) Kendall (3rd generation)
(Young Ichabod 2, Alphens 1)
Alonzo Burnham and his twin, Melissa Flavilla, were born to Young Ichabod Kendall and Fannie Flavilla (Burnham) Kendall in either Bethel, Windsor County, Vermont or Branley's Veil, Kirby County, Vermont. More likely is Branley's Veil as their mother passed on there due to childbed fever 7-9 days after the birth of the children. The twins were separated to live with relatives while their father, Young Ichabod Kendall, traveled west to California. In approximately 1854, Young Ichabod returned to Vermont, gathered up his children and returned to Anderson Valley, California, when Alonzo was 18- to 19-years-old.
Alonzo married Martha Helen Blake in what is now Boonville, Anderson Valley, California, on October 27, 1859. He was then 24-years-old and Martha was just 16. They had five children - Diana M. (1861 or 1862), Lon B. (1863) and Frederick Wilson (1865), who were all born in Boonville. Later, after they moved from Boonville to Manchester, California. There, Martha bore two more children, Courtney Leon (1870) and Edith Mabel (1878).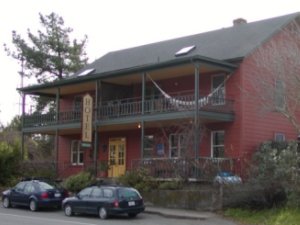 While A.B. resided in Anderson Valley, he became an entrepreneur. He built a commercial building in the valley, a hotel (the New Boonville hotel in 1985), in 1864. Charles Bradbury, another Anderson Valley resident, build a blacksmith shop near the hotel. The two men called their new settlement Kendall City. Soon, Levi and Harrison (later to become Levi and Strauss), moved their store to Kendall City. Alonzo became the town's first postmaster, appointed by Abraham Lincoln. With the arrival of the store, and A.B.'s appointment, residents could now acquire supplies and enjoy mail services which they previously would have to travel to Healdsburg for. About 1858, W.W. Boone settled in Anderson Valley and took over the Levi and Harrison store. Later, after A.B. and Martha moved to Manchester, Kendall City was renamed Boonville (minus the first 'e') in appreciation of Mr. Boone.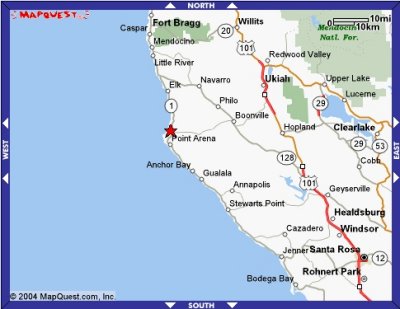 A.B. and Martha moved to Manchester to ease Alonzo's suffering with asthma. He had previously worked on the coast at the Albion mill and found the sea air beneficial to his health. There was no road before 1866 between Kendall City/Boonville and Manchester. They were guided by following the Navarro river, having to unload and dismantle wagons to cross gulches. Once there, Alonzo became a farmer and later, a dairyman. Below is a map depicting Manchester (marked by the red star), Boonville to the east and Healdsburg to the southeast of Boonville (courtesy of www.mapquest.com).
Martha passed on in 1884, leaving A.B. with five children, four of who still resided with him - Lon (age 21), Fred (age 19), Courtney (age 14) and the youngest, Edith, only six-years-old. Diana, the oldest, died the same year as her mother. Edith spent a year living with her Aunt Melissa (Kendall) Ball and Uncle J.D. Ball in Anderson Valley following her mother's death. A.B. managed for four years as a single parent until he met and later married Mary James Sears on May 2, 1888, in Boonville. She was 23 years his junior. They would together have three children - Elwood (1889), Edna (1892), and Thelma (1895). When Thelma was born, she already had seven nieces and nephews older than she.
A.B. and Mary had a berry business in Manchester and they, along with the kids, would harvest their bounty and sell it up and down the coast. Mary also was a practical nurse, having worked previously for a doctor. With no doctors on the coast, Mary was frequently called upon to render aid. When berrying fell due to families growing their own, the Kendall's went into the dairy business. They started by milking all by hand, later building a separator house and milk-house room with milking machines, complete with spring water running through a cement trough to keep the milk cool. A large garden and Mary's canning kept them in an abundance of goods. They also grew their own fields of grain, oats and barley.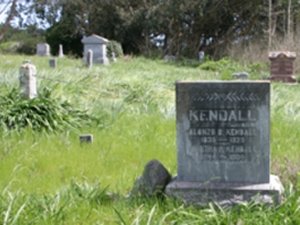 Alonzo Burnham (A.B.) Kendall died on February 24, 1929, in Ukiah, Mendocino County, California, at his daughter, Thelma's, home. He is buried with his first wife, Martha, in Evergreen Cemetary in Manchester, California. His second wife, Mary, lived to be 100-years-old and passed away on August 9, 1958, in Loma Linda, Riverside County, California. She is buried at St. Helena Cemetary, St. Helena, California.
---
Genealogy
The Kendall family tree begins with Alphens (Alpheus?) Kendall and continues down to my maternal grandfather, Calvin Wells Kendall. Asterisks mark the generations in my direct family line. I am a 8th-generation member of the Kendall family, whose line dates back to the mid-1800's. Some family members names are are underlined. These are links to their biographical information (including siblings), and when available, photos.
Alonzo Burnham (A.B.) Kendall (3rd generation) *

Born: October 18, 1835 (twin) in Bethel, Windsor County, Vermont or Branley's Veil, Kirby County, Vermont
Married: October 27, 1859 in Boonville, California (widowed)

Spouse: Martha Helen Blake

Born: 1844 in Kosciusko County, Indiana
Died: 1884, location unknown (most likely Boonville, California)

Child: Diana M. (Born: March 14, 1861 in Boonville, California)
Child: Lon Burnham (Born: February 15, 1863 in Boonville, California)
Child: Frederick Wilson * (Born: May 9, 1865 in Boonville/Alexander Valley, Mendocino County, California)
Child: Courtney Leon (Born: October 1, 1880 in Manchester, California )
Child: Edith Mabel (Born: June 16, 1894 in Manchester, California)

Married: May 2, 1888 in Boonville, California

Spouse: Mary James Sears

Born: July 29, 1858 in Independence, Missouri
Died: August 9, 1958 in Loma Linda, California

Child: Lowell Elwood (Born: March 28, 1889 in Manchester, California)
Child: Edna (Born: Septemeber 17, 1892 in Manchester, California)
Child: Thelma K. (Born: March 11, 1895 in Manchester, California)

Died: February 24, 1929 in Ukiah, California
---
Siblings
Melissa Flavilla Kendall

Born: October 18, 1835 (twin) in Bethel, Windsor County, Vermont or Branley's Veil, Kirby County, Vermont
Married: date unknown, to Mr. Filkins, location unknown (widowed)
Children: Ella, Ethel
Married: January 1, 1855, to Jefferson Davis (J.D.) Ball in Washington Township, Mendocino County, California
Children: Julia Flavilla, Mary Paralee, Martha Merinda0, Jay Dee, Chardon Scott, Emmet Burnham, Dreme Life, Emily Ermandonda
Died: date unknown, Boonville, California
---