Aloisius Kuba (2nd generation)
(Joseph 1)
Aloisius was born November 26, 1878, in Olmutz, Austria to Joseph (Josef?) Kuba and Antonia Lanave (both born in Austria). According to his niece, Margaret, Alois had five siblings. One of whom, his sister Marie (a.k.a. Mary), also came to reside in America. Besides Mary (married Fredrick Brand in California and had two children - Florence Gertrude who died in a drowning accident and Margaret), there were two other sisters, Margaret (married in Austria, no children, died at age 32 of cancer) and Antonia (married in Austria - married name: Kolsch, had one known son, Friedel). There were also two brothers, names unknown, one of which moved to the Argentines (Dukaman province), married and fathered 9 children.
Alois immigrated from Jaskic, Austria, in 1907, via the ship, 'Mexico', landing in Ellis Island, as seen below in his passenger record.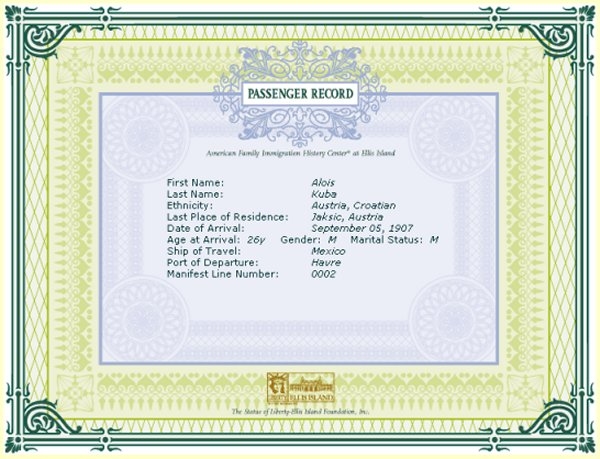 The 'Mexico''s passenger manifest indicates his destination was an uncle's home in Chicago, IL. At the time, he was 26-years-old and married, but traveled alone. We suspect he came to reside in Melitta (Santa Rosa), California, to be close Marie, who lived there.


Three years later after arriving in the States, through census records, Alois was found working as a laborer/handyman as a single, resident boarder in San Joaquin County, California.
Alois had his wife follow him to America and join him at their homestead in Melitta (later Santa Rosa), California, in 1912. Alois did renew his marriage vows with Olga R. Pallaschova (2/7/1889-6/26/1974), on May 7th - just three weeks after her arrival in Galveston, Texas. They had four children; Frieda Josefine (1913-?), Fredrick Rudolph (1914-1987), Carl William (1916-1970), and Ernest O. (1919-2002). Olga and Alois would separate, and later divorce, approximately six months after Ernie's birth.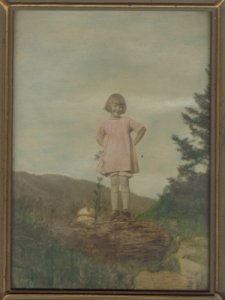 Margaret Brand (Alois' niece by his sister Marie) pictured at the homestead in Melitta, California. The homestead was a remote canyon, attainable only by bicycle or foot. Alois' ex-wife and his children would remain on the homestead after their divorce.
After their divorce, Alois was found in the 1930 census records as a divorcee owning a home in Oakland, California. His occupation was described as a carpenter. He would die in Oakland on August 31, 1949, with little or no contact with his children since the divorce to Olga. He is buried next to his sister, Mary, in the Santa Rosa Memorial Park rural cemetary.
---
Genealogy - Kuba family
The Kuba family tree begins with Joseph Kuba and continues down to my paternal grandfather, Fredrick Rudolph Kuba. Asterisks mark the generations in my direct family line. I am a 5th-generation member of the Kuba family, whose line dates back to the late-1800's. Some family members names are are underlined. These are links to their biographical information (including siblings), and when available, photos.
Aloisius Kuba

Born: November 26, 1878 in Olmutz, Austria
Married: May 7, 1912 (renewal of vows in the United States) in Santa Rosa, California

Spouse: Olga Rudolphine Pallasch

Born: February 2, 1889 in Sumperk, Republic of Czechoslovakia
Died: June 26, 1974 in Santa Rosa, California

Child: Frieda Josefine (Born: April 8, 1913 in Melitta (now Santa Rosa), California)
Child: Fredrick Rudolph Kuba * (Born: December 31, 1914 in Melitta (now Santa Rosa), California)
Child: Carl William (Born: November 3, 1916 in Melitta (now Santa Rosa), California)
Child: Ernest Ottmar (Born: August 20, 1919 in Melitta (now Santa Rosa), California)

Died: August 31, 1949 in Oakland, California
---