Thank you for your patience as pictures are loading. Last updated July 31, 2009.
In 2004, my husband Bob and I set a goal to visit each Major League Baseball ballpark. Our "home" field is in Oakland, California - home of the Oakland Athletics - with the stadium in San Francisco - home of the San Francisco Giants - just across San Francisco Bay.
To date, we've covered all the ballparks in California, Arizona and Colorado. Our Arizona visit was made as stop on our way to Las Vegas, Colorado included attending the game with some buddies from the Colorado Springs area and we made a whirlwind trip to Southern California covering 3 stadiums in 3 days. We've set no time limit to complete this quest, but it's a great way to see different parts of the country.
As a momento of our visits, we collect hat pins from each stadium and then add the pin to our map of the United States that hangs on a wall in our home.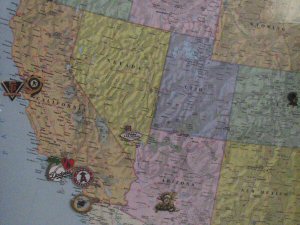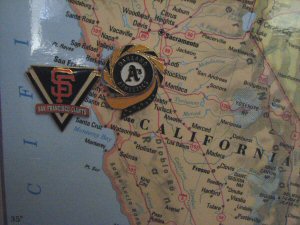 ---