Genealogy, Kendall Family Tree
Young Ichabod Kendall (2nd generation)
(Alphens 1)
Date and place of birth vary in account. The year was 1814, the place was either Weathersfield, Windsor County, Vermont, or Brookfield, Orange County, Vermont. One marriage license indicates Weathersfield.
Young Ichabod married four times! For the purpose of my lineage, I have included his first wife's (Fannie Flavilla Burnham) ancestry. They were married on either December 4, 1834, or November 6, 1832 (again, accounts vary, though most favor the latter date) in Waitsfield, Washington County, Vermont. Fannie and Young Ichabod had twins, Alonzo Burnham and Melissa Flavilla, born on October 18, 1835. They were born in either Bethel, Windsor County, or Branley's Veil, Kirby County, Vermont. More likely is Branley's Veil as Young Ichabod lost Fannie in Branley's Veil to childbed fever 7-9 days (October 27th or 29th, 1835) after the birth of their children.
Young Ichabod had crossed the United States at least four times in his lifetime, leaving his two children to be cared for on the East coast with relatives in their younger years. He returned to the Anderson Valley in California around 1854 with Alonzo, who was 18- to 19-years-old at the time.
His second marriage was to Josephine Maria Riford and occurred on March 31, 1857. We know of a third marriage only by the marriage certificate to his fourth wife, Margaret Albee Partridge, which lists this union as Young Ichabod's fourth. There is no record however, of the the third. Young Ichabod had no other children. Young Ichabod and Margaret were married on May 24, 1860 in Randolph, Orange County, Vermont.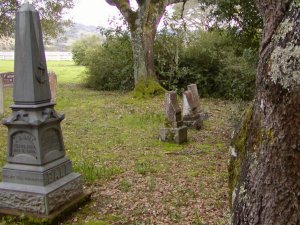 Young Ichabod died in Booneville (now Boonville, formerly Kendall City - see Alonzo Burnham (A.B.) Kendall), California, on March 27, 1890. He and Margaret (died April 14, 1906) are both buried in the Boonville Cemetary in Boonville, California. Their graves lie next to his daughter, Melissa's (wife of J.D. Ball), monument. Young Ichabod's headstone reads, 'Young I. Kendall - Died March 27, 1890 - A Native of Vermont - 'Blessed is the memory of the just''.
---
Genealogy
The Kendall family tree begins with Alphens (Alpheus?) Kendall and continues down to my maternal grandfather, Calvin Wells Kendall. Asterisks mark the generations in my direct family line. I am a 8th-generation member of the Kendall family, whose line dates back to the mid-1800's. Some family members names are are underlined. These are links to their biographical information (including siblings), and when available, photos.
Young Ichabod Kendall (2nd generation) *

Born: 1814 in Weathersfield, Windsor County, Vermont or Brookfield, Orange County, Vermont
Married: November 6, 1832 (or December 4, 1834 - records vary) in Waitsfield, Washington County, Vermont

Spouse: Fanny Flavilla Burnham

Born: December 8, 1814 in Brookfield, Orange County, Vermont
Died: October 27, 1835 (or 29th - records vary) in Branley's Veil, Kirby County, Vermont

Child: Alonzo Burnham (A.B.) * (Born: October 18, 1835 - twin - in Bethel, Windsor County, Vermont or Branley's Veil, Kirby County, Vermont)
Child: Melissa Flavilla (Born: October 18, 1835 - twin - in Bethel, Windsor County, Vermont or Branley's Veil, Kirby County, Vermont)

Married: March 31, 1857, location unknown

Spouse: Josephine Maria Riford

Born: October 12, 1823 in Braintree, Orange County, Vermont
Died: June 29, 1859 in Braintree, Orange County, Vermont

Married: May 24, 1860 in Randolph, Orange County, Vermont (remarked as his 4th, no record of his 3rd however)

Spouse: Margaret (nee Albee) Partridge

Born: April 13, 1822/6 in Thetford, Orange County, Vermont
Died: April 14, 1906 in Boonville, California

Died: March 27, 1890 in Boonville, California
---