Genealogy, Siblings, Kendall Family Tree
Courtney 'Clare' Kendall (5th generation)
(Fredrick, 4, Alonzo Burnham (A.B.) 3, Young Ichabod 2, Alphens 1)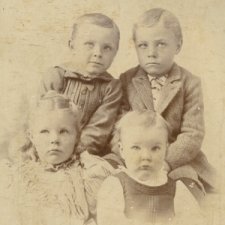 Always known as Clare, he was born in Pt. Arena, Manchester County, California, on June 23, 1892, to Frederick Wilson and Bertha Adeline (Walker) Kendall. He was the fourth child of nine children. His older siblings were Alfred Alonzo (1887-1953), Roy Raymond (1888-1968), and Ethel (1890-1987). They can be seen as children in the photograph (Roy, Alfred, Clare and Ethel Kendall (clockwise from top left) - Pt. Arena, California (date unknown)). The younger siblings were Doris (1894-1964), Lee Russell (1897-1968), Merle (1898-1991) and LaVerna (1907-still living as of 1992). The ninth child was a boy lost in infancy who was born and died in 1900. The family moved from Manchester to Laton, California, in the San Joaquin valley, in 1908.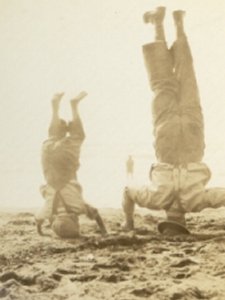 Clare married Maida V. Gardner on April 17, 1916. She was teaching in the valley after completing her credentials at the University of California - Berkeley and that is where they met. They would have two boys; Gardner Warren (1918-1994) and Calvin Wells (1920-1999). In 1923, Clare's brother, Alfred, and Clare switched homes for six months. Alfred moved to the valley with his family, while Clare, Maida and the boys moved to Manchester. At the end of the six months, they switched back. This switch persuaded Alfred (the only sibling not to move with the family to San Joaquin valley) to move and join the rest of the Kendall clan. (A map of the move can be seen on Frederick Wilson Kendall's page.)
Pictured are Clare and his son, Cal, performing matching headstands at the beach at Pt. Arena, California (date unknown).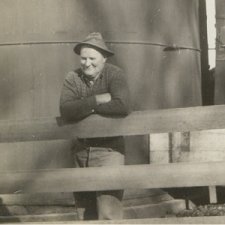 Clare and his family moved back north to the Sebastopol, California, area around 1935-1936. They first settled in Forestville on the Don Winkler place before moving to the Reud Place on Occidental Road in Sebastopol in 1938 (Clare Kendall, one of my great-grandfathers, is pictured on the Rued Place - Sebastopol, California (date unknown)). Clare had first scouted out the area by moving his cattle to the 'West Side' on a piece of rented property called KCD#2. Later, after arranging housing, he sent for the rest of the family. It was here that Clare ran a Grade A dairy until 1945.
Clare and Maida moved to a hilltop ranch overlooking Sebastopol. They lived there until Clare suffered a stroke in 1953/1954. Unable to manuveur easily, Clare and Maida moved in with his son, Cal, and his wife, Dorothy, to their home in town. The house was on an incline and had many steps, rendering Clare housebound. In 1964, the entire family moved to a ranch-style home without steps where Clare was able to enjoy the outdoors until he entered the Sebastopol Convalescent hospital where he died in April, 1967. He and Maida celebrated their 50th wedding anniversary shortly before he died. Maida passed on in 1973 at the same hospital and both are buried in the Pleasant Hill Cemetary in Sebastopol, California.
---
Genealogy
The Kendall family tree begins with Alphens (Alpheus?) Kendall and continues down to my maternal grandfather, Calvin Wells Kendall. Asterisks mark the generations in my direct family line. I am a 8th-generation member of the Kendall family, whose line dates back to the mid-1800's. Some family members names are are underlined. These are links to their biographical information (including siblings), and when available, photos.
Courtney 'Clare' Kendall (5th generation) *

Born: June 23, 1892 in Pt. Arena, California
Married: April 17, 1916, location unknown

Spouse: Maida V. Gardner

Born: May 26, 1891 in Duluth, Minnesota
Died: 1973 in Sebastopol, California

Child: Gardner Warren (Born: May 16, 1918 in 'The Island' (Hanford), California)
Child: Calvin Wells * (Born: April 18, 1920 in Hanford, California)

Died: April, 1967 in Sebastopol, California
---
Siblings
Alfred Alonzo Kendall

Born: March 8, 1887 in Manchester, California
Married: June 25, 1907, to Flora Bell Bishop in Manchester, California
Children: Everett Edwin, Charles LeRoy, Vernon Clare, Evelyn Bertha, Gladys Hope
Died: April 14, 1953 in Pt. Arena, California

Roy Raymond Kendall

Born: October 30, 1888 in Manchester, California
Married: September 30, 1909, to Anna Berniece Ornbaun in Hanford, California
Children: Ila, Velma Leoleon, Olney Roy
Died: November 5, 1968 in Visalia, California

Ethel Kendall

Born: June 8, 1890 in Manchester, California
Married: Chester Mason, date/location unknown
Children: Marvin, Harley B
Married: Warren Rouse, date/location unknown
Died: June 14, 1987 in San Jacinto, California

Doris Kendall

Born: June 16, 1894 in Manchester, California
Married: December 24, 1913, to Albert Earl Umbarger in Whittier, California
Children: Wanda, Earl Kendall, Lee R.
Died: October 13, 1964 in Hemet, California

Lee Russell Kendall

Born: June 22, 1897 in Gualala, California
Married: August 11, 1929, to Arlene N. Payne, location unknown
Children: James Russell
Died: June 26, 1968 in Fallon, Nevada

Merle Kendall

Born: November 4, 1898 in Manchester, California
Married: November 1, 1919, to Orton Dixon in Hanford, California
Died: July 24, 1991 in San Jacinto, California

LaVerna Kendall

Born: January 25, 1907 in Manchester, California
Married: May 19, 1926, to Chester Bridges in Lemoore, California
Children: Wilson C., Bertha Merle
Married: April 14, 1987, to Earl Boggs in Hemet, California
Died: still living as of 1992
---